Rising Damp Symptoms & Cures

Symptoms
Flaking plaster, spongy soft feel to the wall, white powder or crystals appearing on the wall, lifting and stained wallpaper, stained walls, skirting and floor boards rotting These are all signs of rising damp and if your property is suffering from any of these symptoms, then it is likely that you have a rising damp issue. Another strong indication that the problem could be rising damp is that the damp stops rising around I metre up the wall.damp proof course
Cause
Rising damp can arise for various reasons, the failure of an existing damp proof course (DPC) Bridging due to the raising of external or internal ground levels or in older buildings the complete absence of a damp proof course.
Treatment
Chemical injection (pressure and non pressure), damp proof-courses and re-plastering. Three basic types of chemical dampcoursing are offered – Chemical injection dampcoursing, chemical infusion damp coursing, and mortar injection. Using an appropriate system approved by the British board of agrément, a chemical control will be introduced into the wall to be treated in accordance with BS 6576:2005 Installation of Chemical Damp Proof Courses.
Careful consideration will also be given to the position of the proposed DPC level to conform with BS 8102:1990 Protection of buildings against water from the ground.
Pressure Injection
Water based fluids are pressure injected into the walls to eliminate the dampness Pressure injection works best in solid walls.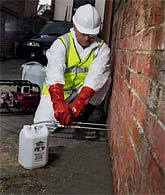 Non pressure injection
Tri-Gel Unique water based gel for the treatment of rising damp.
Water based and water soluble thixotropic gel, which diffuses naturally into damp substrates. After injection, Tri-Gel reacts to form a water repellent silicone resin network within the capillaries of the substrate. This network is permeable to water vapor which means that the walls can "breathe" and dry out naturally. The formulation is not reliant on alkalinity for effective curing. Tri-Gel can be used effectively to treat brick, stone and other substrates.
First, the removal of the old plaster work to a minimum of 1.2 metre high removes potentially heavy contamination along with hygroscopic/deliquescent salts which have accumulated over many years of rising damp, and which, if left, may spoil new decorations.
The new plaster work has a very important function — it must be capable of preventing hygroscopic/deliquescent salts passing to the new surface from contaminated underlying masonry. This function is extremely important because
(a) walls take time to dry down, and
(b) the lower part of the walls are always likely to remain damp because of the limitations of the chemical injection systems. Fundamentally, chemical injection damp-proofing is a system — the injection of the damp proof course to 'control' the rising damp, and the re-plastering to prevent future spoiling — the processes are inseparable.
Due to our experience in the control of rising damp we can assure that after our treatment walls are dry and ready for decoration within a short time after the completion of the treatment. All chemicals and fluids used by our self in the control of rising damp are British Board of Agrément (BBA) certified.